MYRA DINNEEN .B.C.L. DIPLOMA EUROPEAN LAW.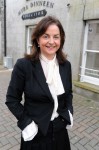 Myra Dinneen is the Principal Solicitor in her own Practice at 65 South Main Street, Bandon which was established by her in 2006. She qualified as a solicitor in 1992 having studied law at U.C.C. and the Law Society of Ireland and subsequently worked in the legal practices of P.J. O'Driscolls Solicitors Bandon, Butler Cunningham and Molony Solicitors Tipperary, Wolfe & Company Solicitors Bantry and Barry C. Galvin & Sons Solicitors Cork City.
Myra has excellent wide ranging experience across all matters applicable to a General Practice. In recent years, she has built up considerable specific experience working in the area of Civil and Criminal Litigation involving District, Circuit and High Court.
Proactive in her approach, Myra moves at the pace of a client according to their specific considered needs.
She has served on the Conveyancing Committee of the Law Society of Ireland and has a diploma in European Law from the Law Society of Ireland and her dissertation was on the influence of the European Communities Laws and Regulations on the Irish Agricultural and Farming Scene, an area she has a particular interest in. She also tutored students at the Law Society of Ireland Law School.
PRACTICE AREAS
65 South Main Street
Bandon
County Cork
P72 W967
Ireland